Hi all,

To all of you experienced modelers out there and to those whom work with TSM, I was just wondering how when you go to to File > Create Train Simulator Object how the "Add Ref File Entr" works? Does it automatically split the texture and Shape files of the model and put these files into the associated place as well as adding the entry to the .ref file?

The reason I ask is becuase it doesn't seem to be working correctly if it does for me?

I hope this all makes sense?

Cheers

Andy

Andy - TSSH Footplate Crew
Andy, as far as I know the "add ref file" only applies to route objects and only adds an object description into the ref file. The textures and shape files should end up in the respective TEXTURES and SHAPES files for the route. Your problem could lay in the Project Properties or Create TS Object entries.

dee4141




Posts

: 297


Join date

: 2013-01-20


Location

: Scotland



Hi Danny,
As an example this is what my Waitrose model looks like in the TSM Project Properties Window;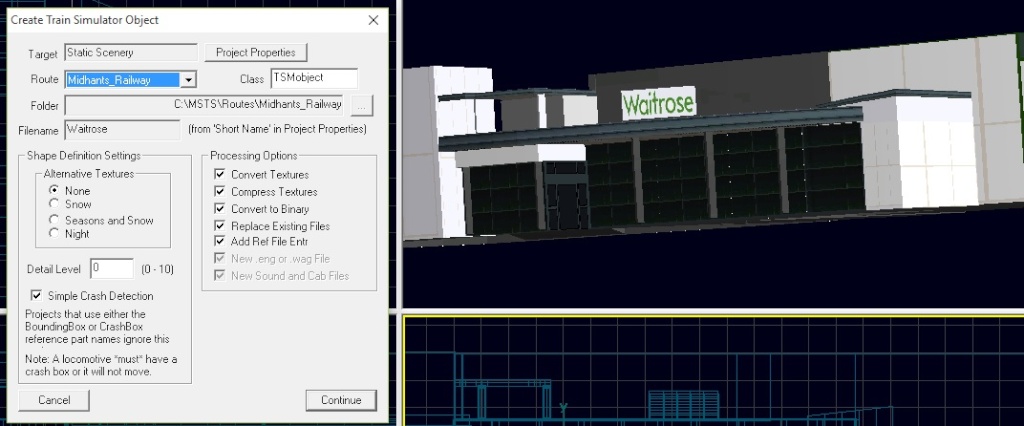 I have gone into the Shape folder and the .ref file and they are now showing up..... Obviously I need to change the Class from TSMObject to something else.....
But I am finding the texture files aren't being copied into the textures folder.... Any ideas what it might be please?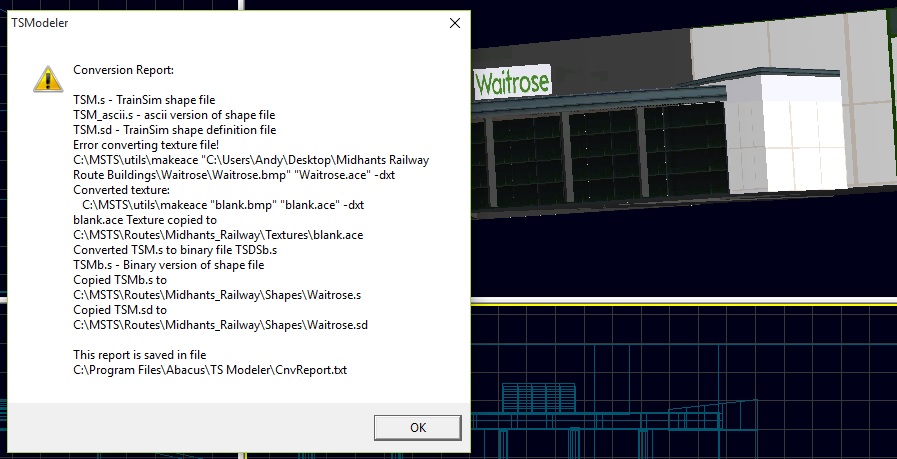 Cheers
Andy

Andy - TSSH Footplate Crew
Hi Andy,
When you say " I am finding the texture files aren't being copied into the textures folder" do you mean all textures, including blank.ace?
If blank.ace is being copied, I suspect the problem might be that your 'Waitrose.bmp' is in the C:\Users\Andy folder.  Have you tried moving it to one of your own created folders and getting TSM to read it from there?

If blank.ace is not being copied either, is there a Read Only element anywhere in the path to the Textures folder?

Cheers,
Ged

slipperman12




Posts

: 1326


Join date

: 2013-01-29


Age

: 75


Location

: North Nottinghamshire



Instead of save, try Package Project.
This moves all the files and textures into a single folder so TSM can find them when you convert to MSTS

Also try Polygon/Find Untextured Polygons.
All parts must have a texture. If you have an untextured poly TSM will create blank.ace for it.

ianmacmillan




Posts

: 175


Join date

: 2013-01-18



I've found that when you copy a TSM object from one folder in another it appears to be necessary to also copy the associated textures, even though you don't amend the lines in the "textures" for the object in the new folder. This has been necessary for my LNWR coach folders where a number of objects are common; e.g. wheels, bogies, chassis, etc.

ALEC
-
Supporter of MSTS and TSSH!

rufuskins




Posts

: 3463


Join date

: 2013-01-17


Age

: 69


Location

: Milnrow, Lancashire




---
Permissions in this forum:
You
cannot
reply to topics in this forum