Out of sheer desperation I have just bought a very old Route,namely,"The Bridge Line" from Maple Leaf.I've long been thinking of looking at anything North American and after trying the "Full Bucket Line" (another oldie) this seemed a good idea,pulling a train that appears to be a mile long with four locos appealed to me.
I was surprised to find there are no Reversing points and that to finish certain acts you are just given a pop up to tell you that you are approaching your destination and which track or siding they want you to end up in,if you can find it amongst the myriad of of sidings there are in the "Rail Yard".
Still I did quite enjoy the few acts I have done,and the Trains are much more controllable than the MSTS default.
So does anyone know how I'd go about buying some of these "American Routes" as to tell the truth I'm dubious of paying for a Route that I would then have to download from the Internet anyway!
I did try to download the Manon Route,but I failed miserably ,which has put me right off going that way about things.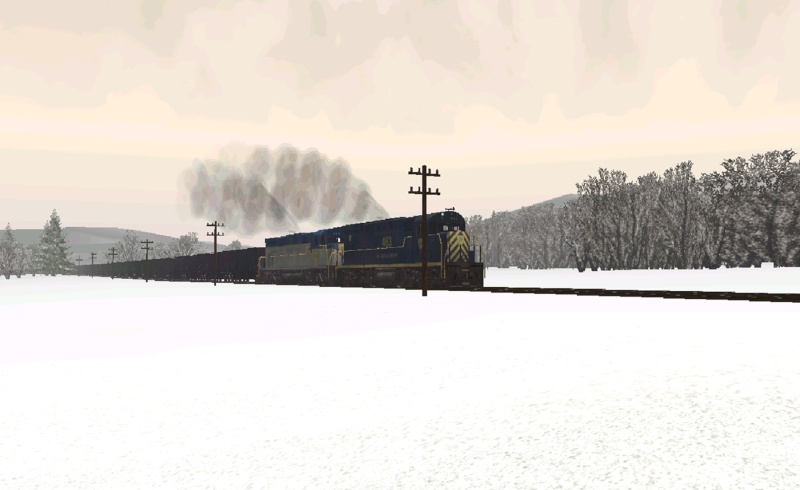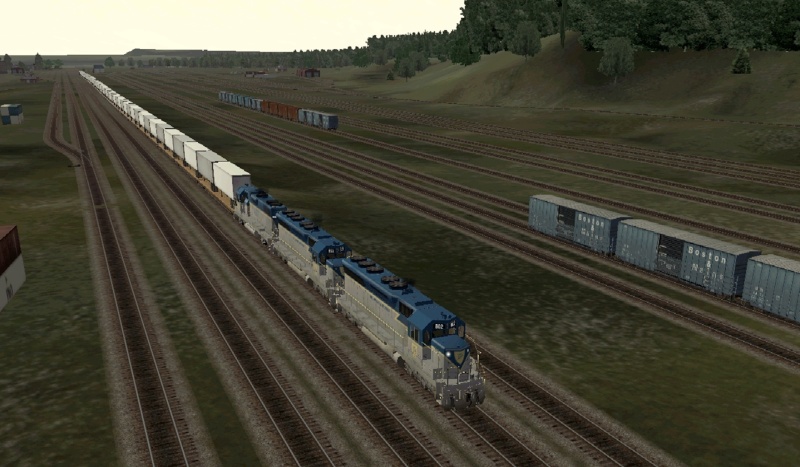 Just a couple of Screenshots,for anyone that's interested,Cheers

Roger

neanderthal




Posts

: 787


Join date

: 2013-04-30


Location

: Gwent



Good morning Roger

I have recently managed to download Version 17 of the Monon route - I too failed miserably with version 16 as Norton disliked it intensely - but due to the size of the downloads it took a lot of time! The only problem with the supplied acts is that you require a number of commercial stock packs.

There are other freeware routes available on Trainsim.com that can be downloaded; I did this a while ago as I wanted to have alternative routes for retirement. I also downloaded the related activities, but again the stumbling point is that a number of these activities also need commercial stock! Obviously one can trawl through the available freeware stock and find suitable alternatives, but it may well be time consuming.

I have looked at commercial US routes but couldn't bring myself to pay out money when I already had numerous UK routes that I hadn't even installed let alone used. As an aside there are a number of Australian routes that can be downloaded from Steam4me. I imagine that there are others who could direct you to European routes.

I accept that this post doesn't answer your query directly, but in terms of buying routes from the USA I assume that Paypal would offer a good degree of security. In terms of acquiring the route downloading is generally the only available method, and its use generally depends on the quality of your internet provider. The only other point to make is to ensure that your anti-virus software will accept the files.

ALEC
-
Supporter of MSTS and TSSH!

rufuskins




Posts

: 3451


Join date

: 2013-01-17


Age

: 69


Location

: Milnrow, Lancashire



Hello Alec,Thanks for that very speedy reply,so it is as I feared.I have looked at UK Routes,ie Great Western by EuroBahnn (is that how its spelt)and Farrington Extension,but to tell the Truth I didn't fancy them.Another I was going to get was The Peak Line until I heard it does not come with an installer,so I'd be bound to CIU.Its also disappointing that I cannot replace my 3DTS Cambrian 2 Route as they do not post out Discs anymore,even if you offer to pay extra Postage ? which seems a little odd to me. Mine Sadly (and costly) exploded in the DVD reader,which is not as uncommon as you would think,my PC repair center not batting an eyelid when I took it in for repair.
So anyway thats my moan over for now,I will just have to trawl Ebay and see what I can find whilst awaiting the new Community Discs. 

  Regards

Roger

neanderthal




Posts

: 787


Join date

: 2013-04-30


Location

: Gwent




ALEC
-
Supporter of MSTS and TSSH!

rufuskins




Posts

: 3451


Join date

: 2013-01-17


Age

: 69


Location

: Milnrow, Lancashire



Hi Roger,
Although The Peak Line doesn't come with an installer, it does give full instructions. It supplies 3 folders (ROUTES, SOUND and TRAINS) which are all to be copied into your root MSTS folder (usually Train Simulator). As with most Community routes, it's necessary to have MSTSBin, XTracks and NewRoads included in your MSTS installation; they are also included on the DVD, together will all necessary official Microsoft Train Simulator updates.

As for the Cambrian 2, it's a pity they don't offer the CD now. Have you contacted them to check if they will let you have the download version to replace the CD which was damaged. They must have a record of your initial purchase! I've discovered that the CD isn't protected in any way and no key is required - I've just installed mine from an ISO image of the CD - so if 3DTS won't help ....

Cheers,
Ged


slipperman12




Posts

: 1317


Join date

: 2013-01-29


Age

: 75


Location

: North Nottinghamshire




Roger

neanderthal




Posts

: 787


Join date

: 2013-04-30


Location

: Gwent



It's all sorted now Roger.

ALEC
-
Supporter of MSTS and TSSH!

rufuskins




Posts

: 3451


Join date

: 2013-01-17


Age

: 69


Location

: Milnrow, Lancashire




---
Permissions in this forum:
You
cannot
reply to topics in this forum